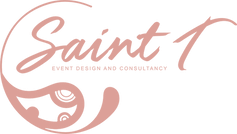 The Saint T Collective
Saint T Event Design is a product of the creative and inimitable mind of Sharon St. Theresa Howell. The Saint T Team is dedicated to executing unparalleled events and will cater to all your unique event needs from ideation to completion. Saint T is committed to excellence and making lasting, beautiful memories.
Saint T Florals
The latest branch of the Saint T Collective was created to give each event that final touch of elegance. One-of-a-kind vases paired with distinctive styles of arrangement, is the formula used at Saint T Florals to satisfy our clients who aim to stand out.
Table Centrepieces and Florals for Brides if it's a wedding
Event Design and Decor
Event / Wedding Planning and Coordination
COMPLETE WEDDING PLANNING
Say goodbye to headaches! The Saint T team will introduce you to the best selection of suppliers that will suit you in every way, awarding you with the most memorable day of your life. All elements will be handled with extreme care and expertise, leaving you to revel in the masterpiece, that you've always dreamed of.
MONTH-OF WEDDING COORDINATION
Hands-on? No problem! You do the planning and one month prior to the big day, we take over your tasks and coordinate on your behalf. Now, you are able to focus on the most important task of all…Tying the knot!
WEDDING DECOR
The Saint T Team will design and create the perfect setting for you to say I DO. Individuality is guaranteed as we aim to depict the absolute union of man and wife by highlighting both their tastes which results in creating their own Fairytale.